My SRX100H purchased on eBay is finally in my hands. Tried to pick it up on Friday from UPS but they couldn't find it in the terminal although they could tell me on what trailer it had arrived on. Went back today and they had "found" it. Got it home and was able to get it to boot and display console output in SecureCRT. Tried initially to talk to it at 115200k as I had seen in some documentation but couldn't get any output from the console port. Restarted things at 9600,N,8,1 and all is well.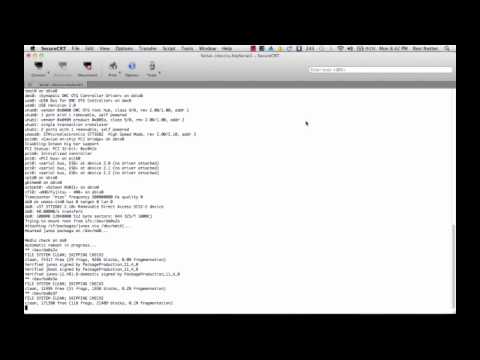 Was happy to see that my Cisco console cable was able to work. That will mean one less cable to carry in my bag of tricks when going to a client site. Had to do a password recovery since I didn't have the credentials from the user I bought this from. This was a good excuse to figure out how to do a password reset/recovery. The information I found on Juniper's website said to hold down the Reset Config button for 15 seconds. All that I saw happen was the Alarm light went on. Powered off the SRX100 and back on. The YouTube video that you see is the resulting output from the SRX100. Now that I have the configuration wiped, I am ready to start the process of studying for JNCIA.
I have downloaded the two study guides from Juniper's website and have started reading the first book. Using GoodReader, I am highlight keywords or sentences that catch my attention to help in later re-reading of the material. I have found a techpub, also on Juniper's site, that shows IOS configuration and how it looks when translated into Juniper style configuration. Will be posting at least once a week as I progress through the studying process.
Send to Kindle