Doing a regular backup with with any computer may be more important than you may think. This recently hit home for me while I was on a business trip and the laptop in my faithful MacBook Pro died. I was the Time Machine service to backup the laptop but the backup was at home and not with me. I had to wait another week until I got home, make a trip to the Apple store to get the drive replaced and then begin the process of restoring the time machine backup that I had. To add insult to injury, I lost about a weeks worth of data since my last backup before I had left for the trip.
There are three ways of backing up your MacBook Pro to an external machine drive. You can use Ethernet, USB or Firewire. At home, I use a Drobo FS (now replaced by the Drobo 5N) with 4 1TB drives installed and a a LaCie Rugged Triple USB 3.0. This may seem like overkill but I can keep the LaCie drive with me while traveling and be able to continue doing daily backups while traveling and then have a secondary backup when I return home. With this way, I have a backup to the backup system just in case.
In this posting, you will see a video I created to show how simple doing an on-demand backup can be. This is the ideal method when backing up a laptop that may not be at the same place all the time. My order of preference in backup up to an external hard drive is ethernet, firewire and then USB in terms of speed. When mentioning ethernet, I do need to make a clarification, I am referred to wired not wireless. Wireless is a half-duplex system so the process of backing up will take a lot longer.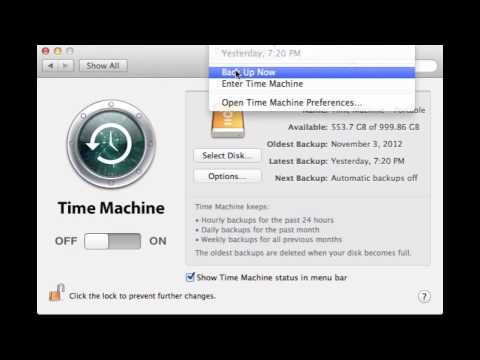 When dealing with a total drive failure, you will first have to get the drive replaced, either by Apple or yourself. Once that is done, boot up and you will be given a choice of restoring from a backup. Restoring from a locally attached drive will be a little easier than a network attached one from the experience I have had. To Apple's credit, they helped me as best they could given it wasn't a system (Drobo) that they supported. I ran into a small compatibility issue where I had to boot the drive up to the point to where I could see my network at home, map a drive to the Drobo and then I was able to do a "migration" from my previous user id to the one I had setup on the laptop after the drive had been replaced.
Although this posting deals with just the Mac side of things, the basic premise of backup up your laptop (regardless of operating system) should be followed. Look at it this way, how much will in cost you in terms of having emails resent, files re-downloaded and lastly the recreation of information that you created and may not have anywhere else ? What you spend in terms of time and money backing up your computer will be far less than what it will cost you to replace that same data when a drive fails.
Send to Kindle